1 April 2020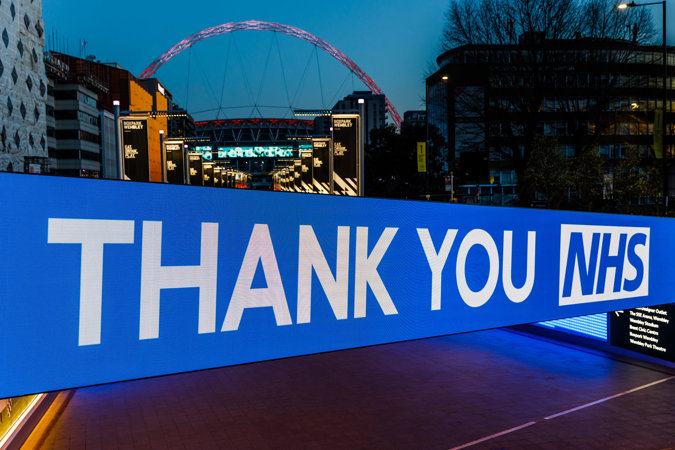 Write a comment on our blog in support of the wonderful commitment of our NHS workers
Posted by Year 6 on 1 April 2020
Category: Class of 2020
---
Alfie C
1 April 2020
NHS
You cared for the sick and held many hands through the years.
you laughed with others and with others you cried real tears.
you made many successful operations that made you proud.
you screamed after you got a job at the NHS you screamed very loud.
you can do it NHS we all can do this.
Dat boi Ace
1 April 2020
NHS our national health service
As a county we are so lucky to have the wonderful people helping others in great need.
To sacrifice their time, care and love in helping others is inspiring.
Saving people's lives must be the most rewarding work we could ever do. We should all be grateful for our NHS team and what they do for our country they are like our national super hero's.
haroldinho
2 April 2020
To NHS,
I would like to say a huge thank you for the commitment of caring for our community. The NHS are a massive savour for England, if it wasn't for you lots more people in the UK would be suffering from this virus.

THANK YOU NHS!
N-HS
2 April 2020
How to stop the coronavirus spreading
1. Stay at home you should only leave the house for very limited purposes
2.wash your hands with soap and water often – do this for at least 20 seconds
3. use hand sanitiser gel if soap and water are not available
4.wash your hands as soon as you get home
5.put used tissues in the bin immediately and wash your hands afterwards

Doing this, we can protect ourselves and the NHS

The NHS are working hard to look after all people who are unwell with coronavirus. Doctors and Nurses and other health care workers are putting them selves at risk to help others! they often have to leave there families and are struggling to get uniforms and masks to keep them safe!!!
It is important to remember what the people of the NHS are doing for us and our friends and families. We show our thank you's by staying indoors and also clapping for them from our doorsteps

Coast Guard CG
2 April 2020
We thank you NHS;
'Cause you've got greatness we do not possess.
You're the ones fighting,
So it's you we're highlighting.
We bow down to you;
For all that you do…

You're the ones keeping us goin'
And through it all still go in.
On the front lines;
Keeping to the guidelines.
We bow down to you;
For all that you do…

Those retired who return,
There's no need for concern.
'Cause we're behind you;
And we bow down to you;
For all that you do…

To those risking it all,
Whether it be a big or a small.
Just:
Keep calm and carry on…

We bow down to you;

We are behind you;

We'll forever fund you;

We'll always support you;


For all that you do...
EB :)
2 April 2020
Thank you NHS! You are amazing! Keep going through this hard time and stay happy! You've helped us a lot and now I think it's time we helped you. Stay at home, wash your hands and stay 2 meters away from all people! Thanks again.

Romy :D
3 April 2020
To NHS
Hardest working people right now.
Every day you go to work you try your best.

Never gives up.
Happy to be saving lives.
So thank you NHS, we wouldn't be here without you!
Ava :)
3 April 2020
Dear NHS,
Thank you so much for helping our community's . i cannot thank you enough that my words would be slurred into a giant mess. The fact that you have been saving lives is extraordinary! And many people have been thankful for that. Every one appreciates the work and hard effort into the virus (and people).
yours proudly,
Ava.
JH :/
5 April 2020
NHS you are the best,
You deserve a big rest,
Porters, doctors, cleaners, nurses,
Keep your badges in your purses,
Everyone will stay at home,
And after this we'll go to Rome,
At eight pm we all clap,
For all your hard work you deserve a big nap.
CH :)
6 April 2020
A Poem for the NHS workers.

You help people feel better when they're down,
All the time, the NHS has been around.
You give your time to care for others,
Especially our sisters and brothers.
Thank you to everyone for looking after all,
We'll beat this disease and we'll all stand tall.
You always think of a new medication,
Come on, come on lets soon have a celebration!


KW
6 April 2020
Thank you NHS staff for your hard work twenty-four hours a day seven days a week . We appraciate your hard work in this difficult time. Thats why we stand outside and clap our hands on thursday to support the NHS.
LKP
7 April 2020
Thank you NHS for doing what you do,
And thank you to all the Care workers we will mention you to.
Including my nan, to me you are all heroes,
I assure you now, this country doesn't see you as zeros.

My Auntie Bex is in that too she is classed as a key worker,
When it comes to saving lives none of you are shirkers.
As a country we will clap you and praise what you achieve,
As a country we will beat this and watch corona leave.

So for now we stand together and stay home while you are brave
And we will thank you ever more for every life that you save.
Mrs Beesley
7 April 2020
Really thoughtful and uplifting comments Year 6. Keep doing your part and help our amazing NHS workers.
LD
9 April 2020
Thank you NHS, for all the help you give us and all the support i know it is hard at this time but your the ones who are getting us through this.And thank you for saving lifes.And we will support you until it is over.
King jay
10 April 2020
We are so lucky to have our national health service at the moment there is a pandemic a virus called covid 19 going around the world. Many thousands of people are dying world wide. I would like the opportunity to commend our NHS staff who are actually risking their lives and the lives of their families, working under these terrible conditions. They have always been there to help all walks of life and have worked really hard caring for the poorly terminally ill and people who have had operations but this pandemic is something totally different. It can strike anybody at any time. These times are very frightening. I know personally as my auntie vicky is a student midwife who was working on the front line. It's very scary. We are told to stay at home to stay at home to stop to stop this virus from spreading further. I am staying at my grandmas and grandads and have not seen my mum or little brother for three weeks now. This makes me feel depressed I wish to send a message to all the NHS staff I praise each and everyone of them for their bravery I would like to take this opportunity to say "thank you" I give you a round of applause a standing ovation and bow down to you I salute you you are our true heroes god bless each and every one of you thank you so much.
NA :)
14 April 2020
This is a poem for the NHS,
To show that you really are the best,
You work all day,
And pass the test,
To show that you really are the best,
I know it's hard to do this job,
But inside it shows that you care and love,
It shows that you really are the best,
Everyone around the world adores you,
To show this love for all of you,
We stand in the street and clap,
We clap and scream so loud,
To make sure you can hear us,
Please remember that your work is fantastic,
And never stop doing what you do,
Because you are brilliant,
And resilient,
But one last message for everyone around,
Stay at home,
And pass this around ????

Mr D
15 April 2020
Great work Year 6!
Amazing comments and so heartfelt too.
The NHS will be very proud of you all!!
Keep up the good work and stay safe!!
Mr D


Km
20 April 2020
NHS you are the best
Your always working hard while we all rest
Your saving lives every day
How could we ever repay?
Your days are long
Your days are hard
You are tired
Yet so admired
When the virus has all gone
We can all come together as one
We will thank you from the bottom of our hearts
And hope we all never stay apart


L.H
22 April 2020
Thank you NHS our local national health service for healing all that we have hurt and all our viruses. Thank you for working 24-7 (24 hours a day 7 days a week). Please carry on and help us break down the corona-virus. Thank you.
H.L
7 May 2020
NHS you have done the impossible
You are unstoppable
It is absolutely incredible
Your work ethic is commendable

We just want to take this time
Hoping that your fine
You have shined
Through these dark times

NHS we just want to give you a big…
!!!THANKS!!!

PL xD
11 May 2020
As we are in quarantine we are so lucky to have the NHS to help us we must wash are hands and stay at least 6 feet apart don't put your fingers in your mouth don't touch other people and stay safe. We appreciate the NHS so so much for helping us get through this. As much as you miss your friends don't go and see them it's best not too~PL xD
PL xD
11 May 2020
As we are in quarantine we are so lucky to have the NHS to help us we must wash are hands and stay at least 6 feet apart don't put your fingers in your mouth don't touch other people and stay safe. We appreciate the NHS so so much for helping us get through this. As much as you miss your friends don't go and see them it's best not too~PL xD
Leave a Reply